Cake recipe. If you are looking for something tasty to serve at tea time, this cake with candied orange peel, raisins, and nuts will take your breath away. This cake can be served for 6 – 8 people.
INGREDIENTS
3 free-range eggs
200g organic butter
180g brown cane sugar
200 g white flour (an additional handful of flour will be needed for rolling nuts, candies and raisins)
3 tablespoons oat milk
1.5 teaspoon baking powder
pinch of salt
100 g candied orange peels
50 g raisins
60 g walnuts (use your favorite ones) vanilla sugar for decorating
METHOD
1.Preheat the oven to 180ºC/350ºF/gas 4.
2. Add raisins and nuts in two separate bowls. Pour with boiling water and leave it.
3. Melt the butter and pour into a large bowl, then add brown sugar and a pinch of salt and stir until sugar melts in.
4. Beat three eggs in a separate bowl and beat well with an electric whisk.
5. Add the egg mixture to the butter and sugar mixture and beat well until a smooth mass is obtained.
6. Add oat milk and mix again.
Organic grain
7. We buy grain from an organic farm that doesn't use glyphosate. We grind it in the mill, sift it and prepare white flour for the entire season. Weigh 200 g of flour into a separate bowl, leaving one ladle for rolling candied orange peels, raisins and nuts. Add baking powder to the flour bowl and mix it.
8. Gradually add flour to the butter and egg batter. Stir until a smooth mass is obtained.
9. Strain raisins through a sieve and leave to drain. Pour 1 tablespoon of flour into a separate bowl and mix wet raisins to cover them with flour.
10. Do the same with the nuts. Grind it with a knife a bit and repeat the rolling process in the flour.
11. Roll the candied orange peel in flour.
12. Add raisins, nuts and candied orange peel to a dough bowl and mix everything well.
13. Add the dough to the cake tin and transfer to an oven for 50 min.
14. Remove from the oven when the top is nicely browned and allow to cool in the tin for 15 to 30 minutes.
15. Remove from the tin, let it dry for another half an hour.
16. Sprinkle with some powdered vanilla sugar on top of the cake.
This cake is so delicious, it usually disappears quickly and doesn't stay for the next day. This cake can be baked with grated lemon peels, raisins or your favorite nuts. You can improvise and use dates, dried plums or cranberries. After adding cocoa powder, you will have a chocolate cake. If you use this dough for cupcakes, do not fill it all the way to the top. Leave some space to rise. Bake for 30 minutes or until the top of the cake turns brown. Bon appetite!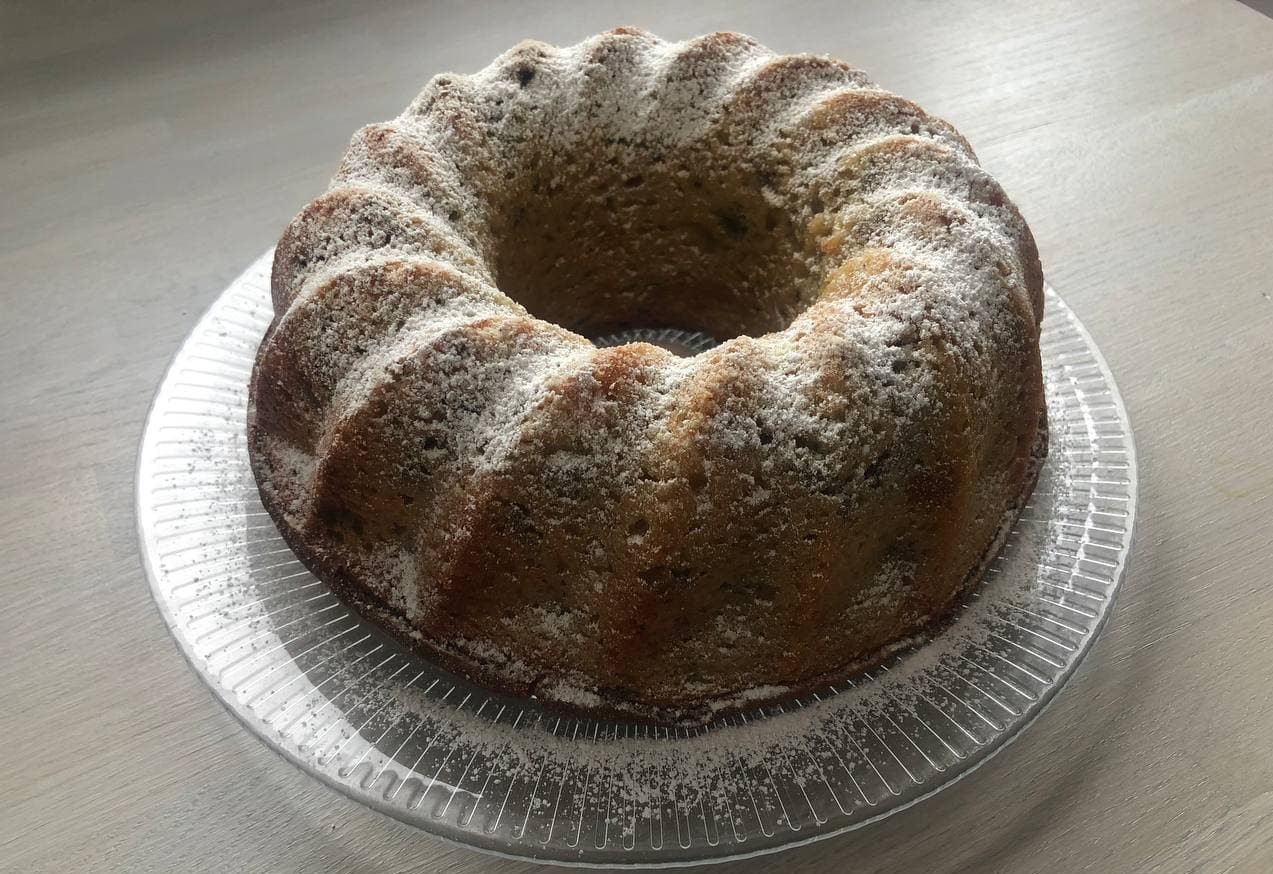 ---
READ