Caramel lazy cake with nuts and apricots is my favorite. I know chocolate fans will scream and maybe criticize my creation, but they'll quickly apologize. It's the tastiest for me, and my little food critics love it too.
When I was studying, I had lots of free time between lectures, and I used it to hang out with my classmates. Once my friend offered me a chocolate lazy cake she made at home. This dessert was made from biscuit crumbles, butter, condensed milk and cocoa. It was sweet, rich and yummy. I saved her recipe and came up with my own version. Mine is more caramel, because it's cocoa-free, less sweet. I used less biscuits and added more nuts and dried fruit instead. You can form this caramel lazy cake like a cake or like a sausage – salami. It's up to you.
This caramel lazy cake version is way healthier. As many members of my family are lactose intolerant, I use shea vegan butter instead of real butter. In my recipe, I use less condensed milk, like half what's in the original recipe. More dried fruit instead of cookies makes it healthier. Obviously, it will also work if you use regular butter or any dried fruit you have on hand.
Caramel lazy cake with nuts and apricots recipe
Ingredients
Butter: You can use either regular butter or vegan butter. Both work well. Butter acts like the glue, keeping all ingredients together and holding on everything.
Condensed milk: condensed milk makes the lazy cake creamy, soft, and moist. And it is not just about texture, it gives amazing caramel flavor too.
Apricots: Soft apricots are best. If it is too dry, soak it for half an hour in the warm water. You can use any dried fruits you have on hand. Just use your imagination and don't be shy. Experiment till you find your perfect match. I like apricots, so I use them.
Walnuts: walnuts pairs well with caramel. It is absolutely amazing. You can skip apricots or other dried fruits, but never walnuts. Use hazelnuts or pecan nuts.
Tea biscuits: you can use "Goya Maria cookies" style biscuits. You can absolutely use Digestive biscuits, graham crackers, or any other biscuit you like! You can also use less biscuits and add other ingredients instead. Keep in mind that if you overload the batter with biscuits, your cake will fall apart.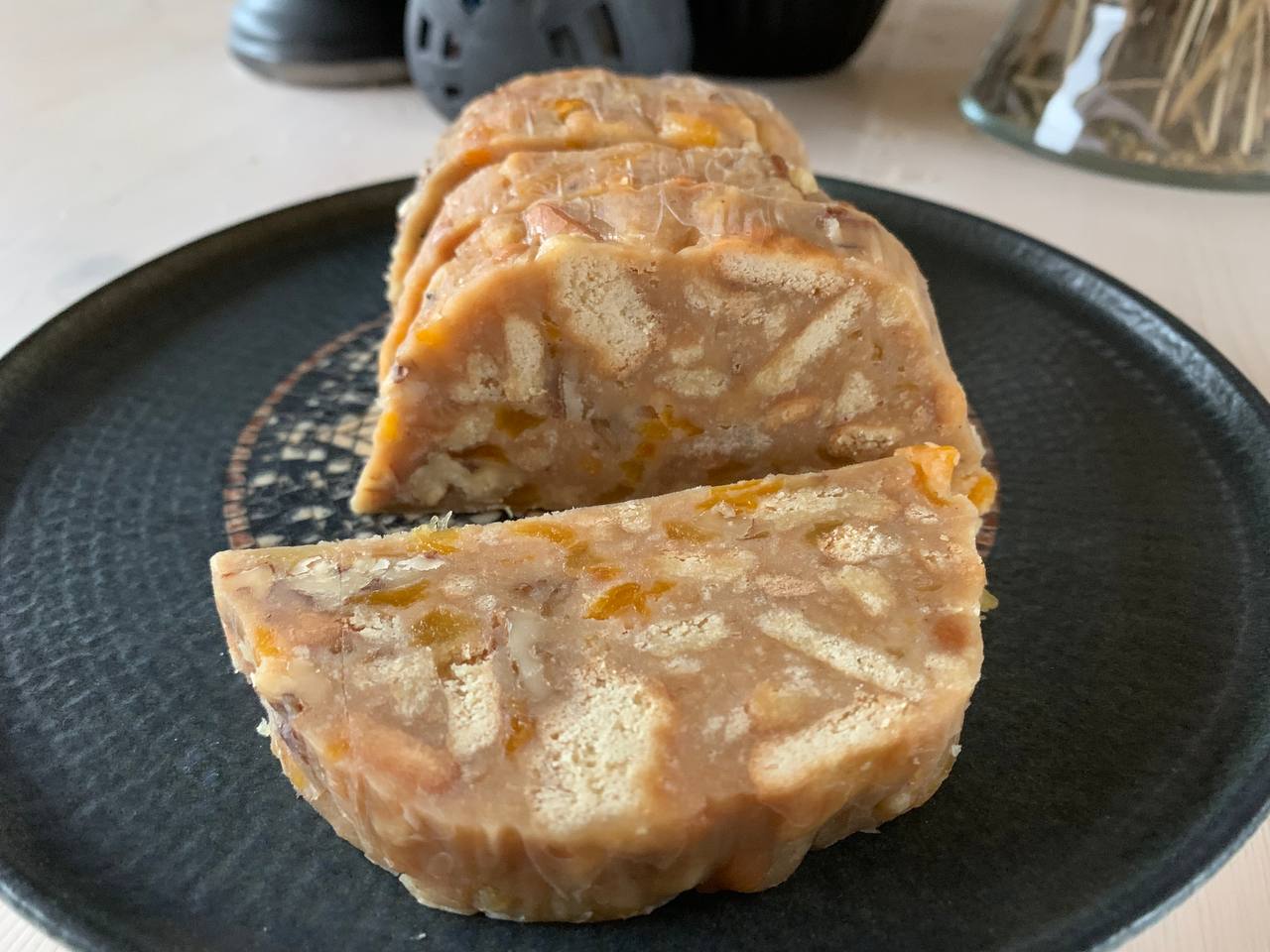 Ingredients
12 oz (350 g) Goya Maria style cookies
1/2 of 14 oz can (200 g)  condensed milk (or less to your taste)
1 stick  8 oz (200 g) butter (I use vegan butter)
6 oz (200g) dried apricots
3 oz (100 g) walnuts
Instructions
Break the biscuits into small pieces and place in a bowl. Finely chop the apricots. The kind I buy is quite soft so I don't need to soak them. Chop the walnuts.

In the meantime place small saucepan on the low heat and melt the whole butter. Just dont let it to boil.

Add chopped apricots, nuts and mix everything well with a wooden spoon. Pour a half can of condensed milk and mix. Then take a wooden potato masher and mash everything a bit so that the cookies crumble even more and soak the butter. After that, I mix everything up again. You can use even less of condensed milk if you want a healthier option.

Next, put the butter in plastic food wrap, form a a long and thick sausage. Tightly fold the edges and transfer to the fridge. Leave it overnight. Enjoy next day!
Follow these links for more desserts recipes:
If you are looking for inspiration click here
Follow me on Instagram and tag #kaylamagazineofficial to see your amazing creations!