Today I'm sharing my favorite moist banana bread recipe! It is absolutely delicious. Banana bread was always my favorite. I made it using various recipes and variations… and I have a winner – the recipe that I have improved. My family loves it. It is moist, loaded with bananas, butter, and toasted walnuts.
As the weather gets colder, we are all craving something freshly baked that is warm and comforting.  I'm sure this quick, easy banana bread would please any sweet tooth!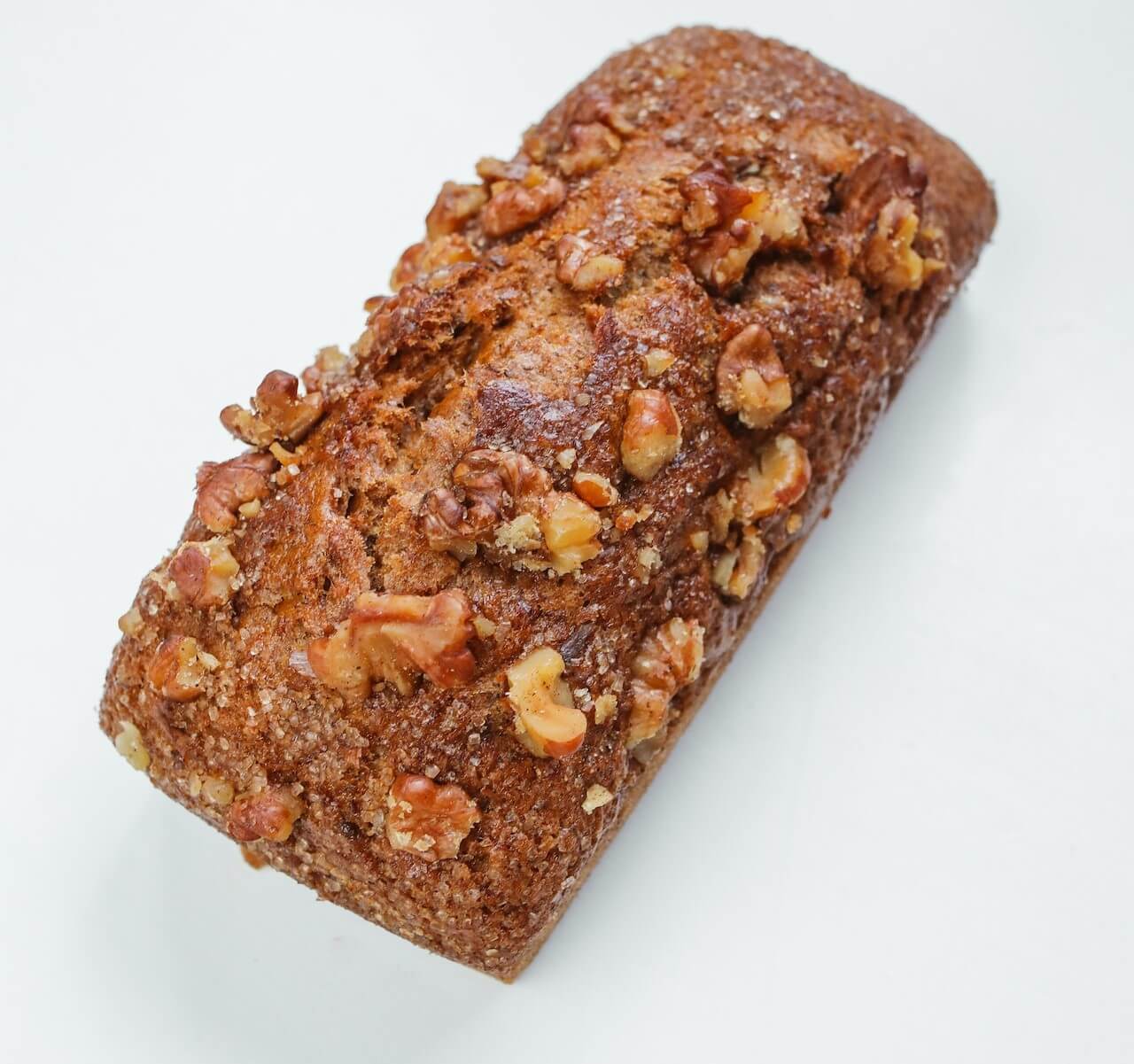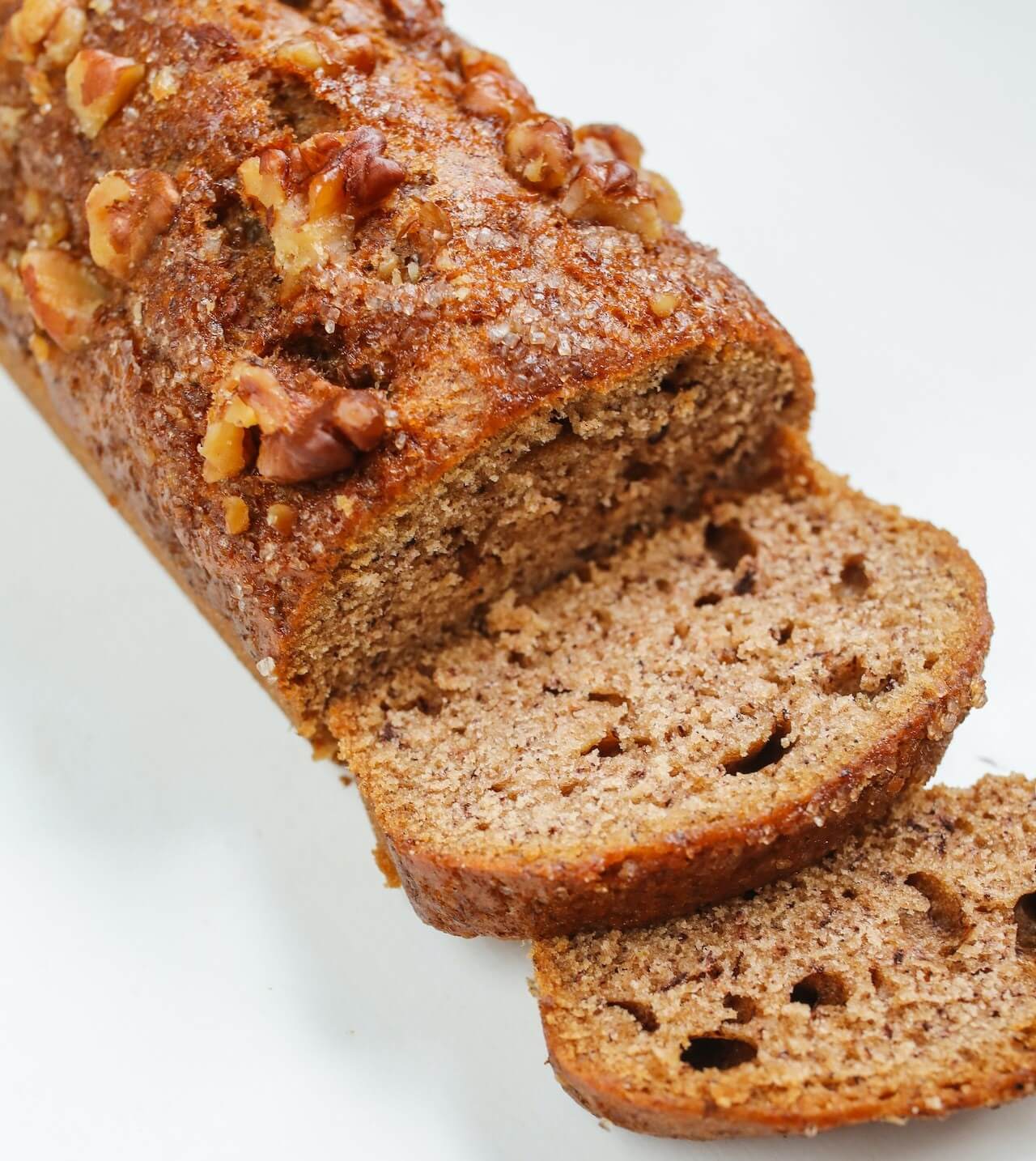 Moist banana bread recipe
I bake it in a loaf or bundt pan. I guess it depends on my mood and occasion. Whenever I want  to serve a nice cake, I use a bundt pan, and when I want to look it like a bread, I use a loaf.
If you are guessing the measurements for the loaf, I suggest  9.4 x 4 inches/24×10 cm.
Banana bread variations
Add a 1/3 cup of poppy seeds
You can add a few handfulls of your favorite nuts. I like pecan, wallnuts, pistachios, peanuts, sliced almonds or hazelnuts.
If you want more richness, add some black chocolate chips.
Personally I don't like raisins, as it would be too sweet to my taste, but if you love it, go ahead.
Ingredients
Bananas: It is the best to choose over-ripe bananas, as it gives extra sweetness and moisture. The peels should be at least half browned. Go for organic fruits. I allways choose them.
Eggs: choose free range eggs or find a local farm near your home.
Sugar: I like cane sugar.
Cinnamon: it pairs perfect with bananas moisture and gives amazing flavor. Cinnamon aftertaste makes the whole thing gourmet.
Cloves: clove pairs well with cinnamon. Make sure you use ground cloves.
Butter: As my kids are lactose intolerant, I use vegan butter. The butter adds richness and moisture as well as bananas.
Flour: I use organic all-purpose flour.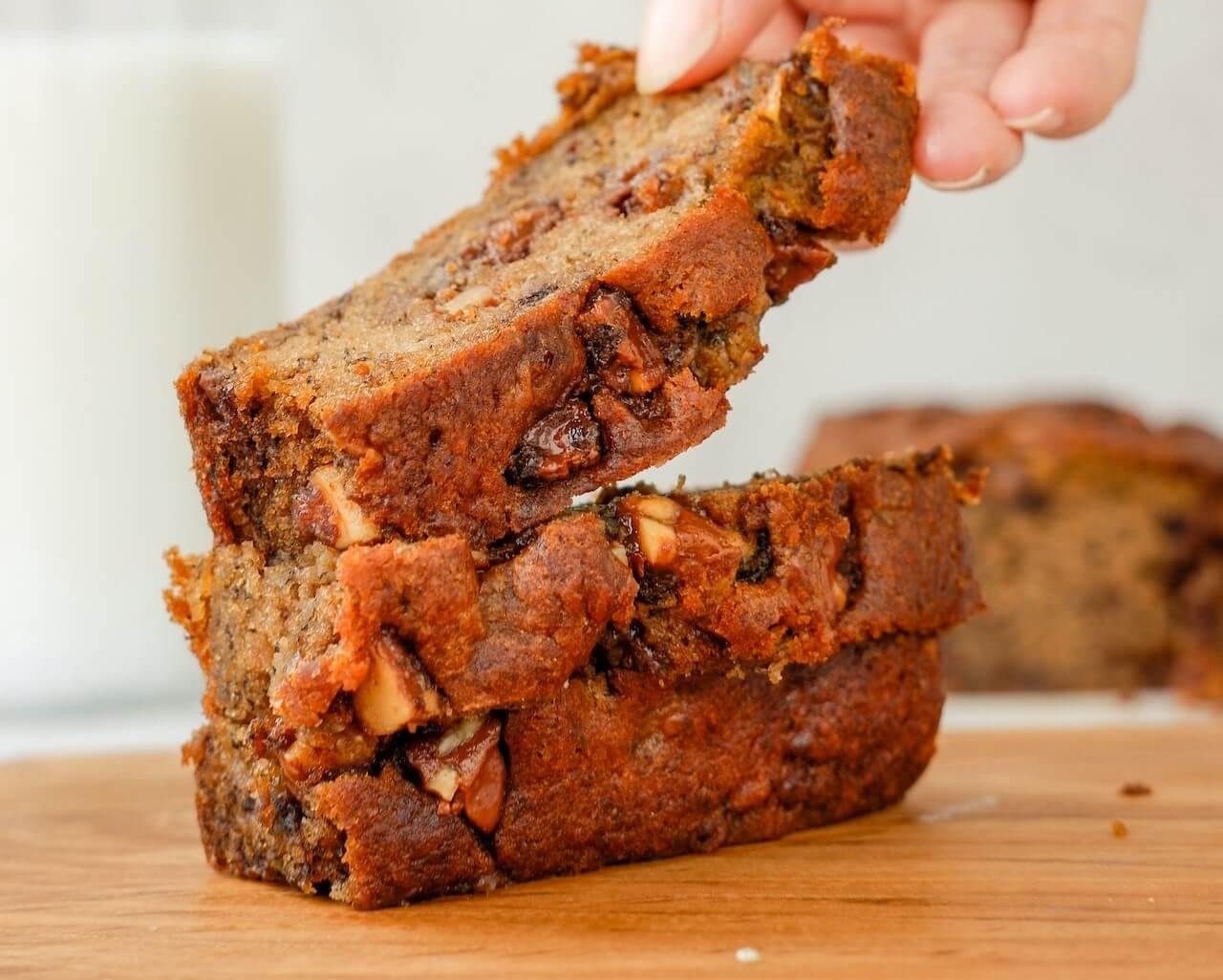 Ingredients
½ cup + 1 tbsp (125 g) butter
¼ cup (60 g ) raw cane sugar (¾ cup - 150 g if you would like more sweet)
2 free-range eggs
1 + ¼ cups (200g) all-purpose flour
4 -5 ripe bananas
1 teaspoon Baking Powder
1 teaspoon cinnamon
1/2° teaspoon cloves, grounded
Instructions
Preheat oven to 370 F°/ 190°C. Prepare your loaf pan.
2. Melt the butter.
3. In a mixing bowl, mash the over-ripe bananas with a fork until completely smooth. Stir the melted butter into the mashed bananas.
4. Beat the eggs, mix with sugar and then add to butter and bananas mixture.
5. Mix flour with baking powder and spices.
6. Sift the flour into the bananas mixture.

7. Grease and pour the batter into your prepared loaf pan. Transfer it to the oven.
8. Bake for approximately 35-45 minutes. The top of the loaf should be nicely browned.
9. Let it cool completely before serving.
Thanks so much for stopping by today! Enjoy!
Follow these links for more breads and cakes recipes:
If you are looking for inspiration click here
Follow me on Instagram and tag #kaylamagazineofficial to see your amazing creations!