Today I will share the best norwegian fish soup recipe, but first, let's talk about where it came from.
Norway is one of the most mountainous countries in Europe. Country dominated from north to south by a series of mountain ranges of the Scandinavian Mountains has only 10% arable land and only 24% of forest. Norway is rich in waterfalls and fishy rivers. The longest river basin covers 13% of the country's area. Residential areas are located on the coast between the fjords washed by the Atlantic Ocean.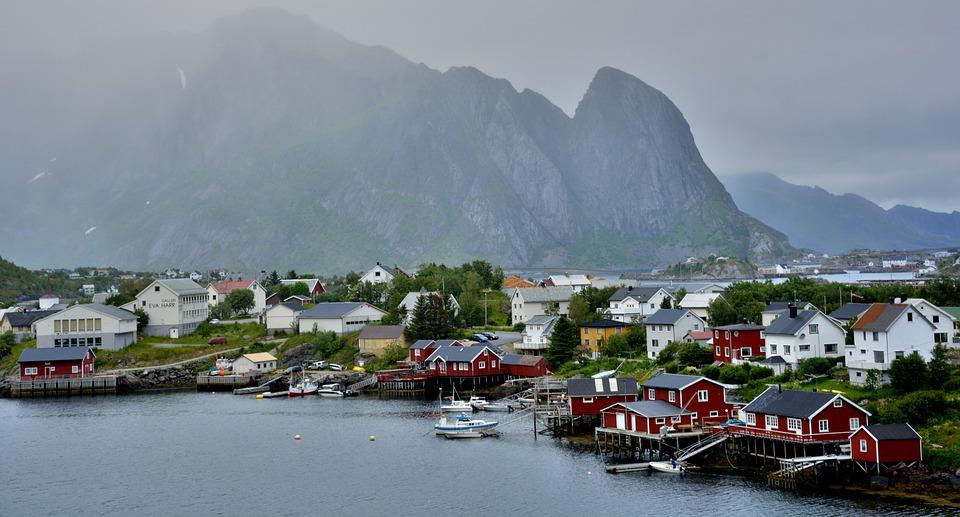 Since ancient times, fishing has been one of the main sources of nutrition in Norway. Could it be otherwise if you live near the salty sea. Fish and seafood are an integral part of Norwegian cuisine. Norwegians also make potato dumplings (Potetball, similar to German dish called Kartoffelklöße), eat sausages and meat stews with sauerkraut.
The charming lady Liv Torhild made this fish soup. She shared this recipe with me at the time I was living in Norway. When I tasted it, I thought it might be the most delicious fish soup I've ever tasted. When I got the recipe, at the top of it was written Tove's Fish soup. Tove is a Scandinavian female name.
Ingredients
French baguette or toast
2 teaspoons curry
3 tablespoons butter
2 – 3 fine chopped onions
2 carrots cut into slices
3 cloves garlic
300 ml of water
3 peeled and finely chopped tomatoes
300 ml of regular or coconut cream
3 – 4 peaches
150 g raw peeled shrimps or langoustine tails
400 g cod fillet in Norwegian recipe, but I used halibut fillet, skinned
1 – 2 tablespoons brown sugar
pinch of salt
greenery for decorating
Method
Peel carrots and onions, chop them into small slices and fry in a pan with butter and curry over low heat. Then add fine chopped garlic, a pinch of salt and fry. Add water to the pot and the peeled, finely chopped tomatoes, apricots, sugar, salt and cook until soft. When the tomatoes and apricots are soft, pour the fried carrots with the onions and garlic into the same pot, simmer for a few minutes. At the end, add the cream, fish fillet and simmer everything for another 6 minutes. Keep in mind that frozen products (if you use them), lose their weight when the ice melts.
At the very end, add shrimps. When they are left to cook for too long, they harden and lose their taste. If you are using fresh, grey shrimps, simmer for 3 – 5 min. If you use red ones, they are already cooked. Add it to the boiling soup just a few minutes before serving. Taste, add salt if necessary. You can decorate the soup plate with greens. Serve with toast, baguette or bun. I can boldly call this Norwegian, creamy fish soup recipe for royal fish soup. It's gourmet and delicious. Enjoy your meal or Håper det smaker in Norwegian!
Ideas
Decorate the soup plate with lime, a few mussels, which can be placed at the end as the shrimps. Boil the mussels very briefly, only until the sink opens. If you like spicy, you can add finely chopped chili pepper and your dish will take on a completely different shade. Don't be afraid to experiment while you are cooking. This way you will prepare the most delicious food, and even the finest restaurant chef won't be able to beat you.
---
Read: