When the baskets are full of plums at home and I want something delicious with tea, this plum pie always comes to my mind. This recipe is over sixty years old. Third generation of housewives still bakes it. Even today, people love this pie. This plum pie is simple and versatile. I don't know if I did the right way, by calling this plum pie recipe American. I know that very similar plum pies are baked in Italy, Austria, France, Switzerland, Germany, England and Hungary.
PLUM PIE RECIPE'S ORIGIN HISTORY
For the first time this plum pie recipe was published in 1983 in the U.S., at the bottom, in the left corner of The New York Times newspaper. Throughout the years, it has become the most popular recipe in the newspaper's history. The following summer newspaper received numerous requests to republish this plum pie recipe, so the editors decided to reprint it. It lasted until 1989, when after printing the recipe, the note was written next to it: print it, laminate it and hang it on the fridge, because that's the last time we print it. Really." After this comment, the newspaper received a pile of letters from outraged readers.
Later, they published many variations of this plum pie recipe, butter replacing with bananas, plums with apples or cranberries, white flour with whole grain flour. Mariana Burros was in charge of the newspaper's food section. She got this plum pie recipe from her childhood friend. Now she is retired, but still bakes this cake. She prefers pies filled with peaches or blueberries. She found an identical plum pie recipe in the housewife's recipes book. This recipe was called Hungarian Plum Pie. Other readers commented that they bake it with pears, nectarines, strawberries, raspberries, cherries, lime, grated lemon zest, raisins, small pieces of almonds in the dough, or almond paste instead. You can experiment until you find your favorite pie version.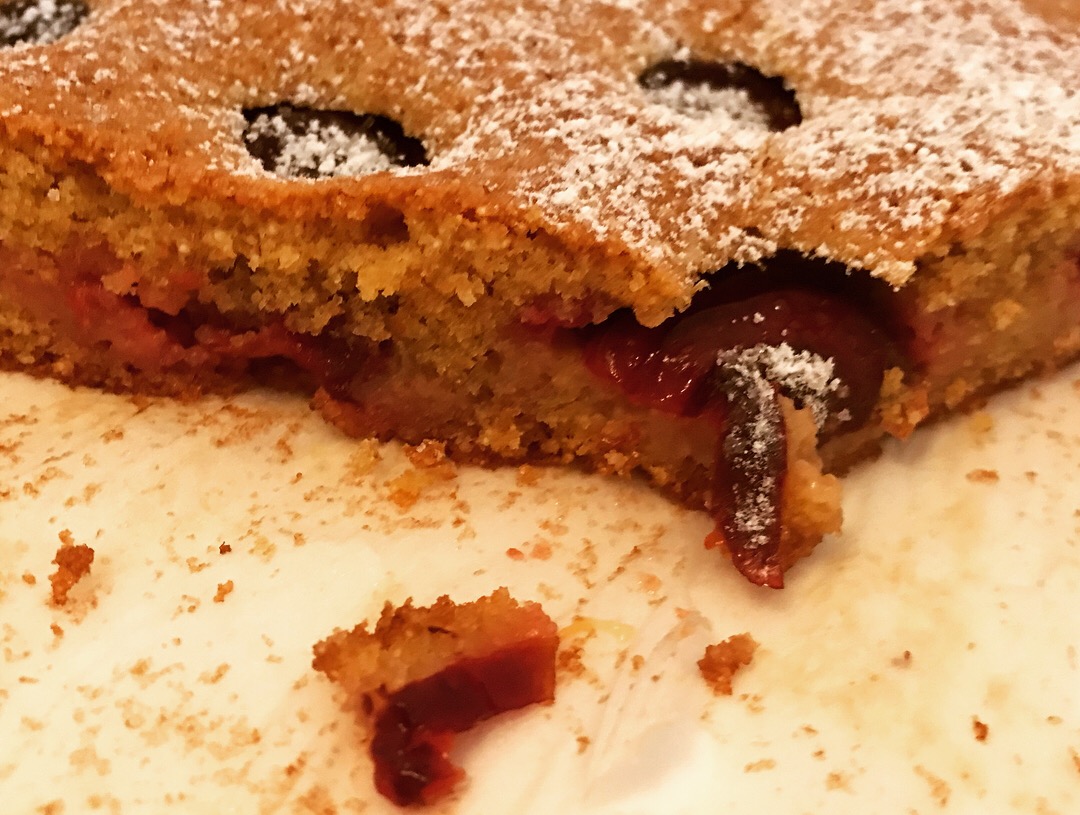 PLUM PIE INGREDIENTS
160 g organic white flour, I buy it from organic farmers who don't use glyphosate (you can use regular flour)
1 teaspoon baking powder
120 g  golden caster sugar (or less)
115 g  butter. If you don't have butter, you can use oil instead
2  free-range eggs
12  plums
1  lemon juice
1  table spoon cinnamon
pinch of salt
vanilla sugar
METHOD
In large bowl mix the flour with the baking powder, cinnamon and salt. On a separate bowl mash butter and sugar until it melts, then add eggs one at a time and beat.
Beat flour into the mixture of butter, sugar and eggs and stir.
Grease a (24cm/8, 9 or 10 inches) cake tin and line the base with greaseproof paper. Pour in the mixed dough.
Prepare the plums: wash and cut in half, remove pits. Place the plum halves skin side up on top of the batter. Sprinkle lightly with sugar and lemon juice, depending on the sweetness of the fruit. Sprinkle with about 1 teaspoon of cinnamon, depending on how much you like cinnamon.
Preheat the oven to 180ºC/350ºF/gas 4.
Bake 50-60 min., approximately. Cool to lukewarm and serve plain or with whipped cream.
Sprinkle with vanilla powder sugar on top.
Bon appetite!
---
READ